Welcome to my home page.

As this is in essence a very personal business card, I am pleased to show you my work as an Artist. The main focus of this Web page is to introduce my work to galleries, curators and collectors. Be it through painting, writing, or collaborative explorations with sound, movement and new media. Be it as curator or organizer of group projects. Be it the very private and solitary work within the studio, the intimate questions I seek to understand, of nature, of matter, of light and movement, of myself. I am currently seeking gallery representation in Europe and the USA. When you have questions or seek further information please contact me through the email formula.
Enjoy.


Biography

Barbara Droubay is an internationally recognized artist from New York City, New York. Her work has been shown in galleries and collected privately in New York City and in both the East and West coasts of America, (California, Oregon, Washington, Utah,) and throughout Europe. (Vienna, Amsterdam, Berlin and Paris.) She is now residing in Berlin, Germany where she engaged in her work as a painter and is actively involved with artists of all disciplines. She is joint curator of Arts at the newly established arts space 'Ausland' in Prenzlauer Berg, Berlin. Presently she is working on a current exibition series of new drawings and paintings to be shown in the fall, as well as several large collaborative works to be showcased in Berlin, Europe and abroad.

Curation

Barbara worked as part of the Ausland team as Produktionsleiterin (production manager) for 'RadioRiff', a week long live stream radio broadcast from Ausland. Dec. 11-18th 2003. This year she is organizing The Sound/Art collaboration entitled the "Visible Sound Festival." Internationally recognized artists, and artists working in Berlin, are brought together in this large scale festival, to explore the nature of sound and sight. Presently she is organizing an experimental piece entitled 'Binding Point' exploring the potential of mark making as sound instruments. Fall 2004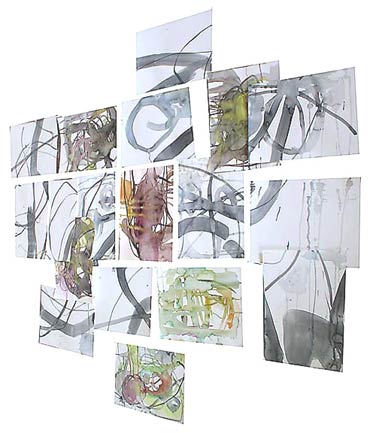 Projects in berlin

Barbara moved to Berlin in May of 2002. Since her arrival here, she created and participated in a multitude of exciting artistic events exploring themes of interconnectedness and interdisciplinary work between art and music: ('It's About Time" works for 6 paintings and 6 musicians') participated in festivals and exhibitions of an experimental nature: (The Screen Festival, 'Wandlungen' A week long performance and visual arts festival using a room length screen). And participated in collaborations such as ('Our song is long'-12 hour composition with 3 painters and many musicians), as well as 3 improvised time based visual description pieces ('Beschreibungen') delivered live for radio as participant of 'Radioriff.