Barbara E. Droubay

Berlin:
Bornholmer Straße 90
10439 Berlin Germany
Fon: +49(0)30.44.78.233
Mobile: +49(0)176.20.10.16.57

New York:
West 148th St. Suite 1G-NYC
NY 10031 U.S.A.
Fon: 001 +(212) 281-8835

Web: www.droubay.de
Email: info@droubay.de

OBJECTIVE
Seeking Gallery representation. For information / review by galleries, museums, public and private organizations of Fine Arts representation.

EDUCATION
1969 Born: Guatemala City, Guatemala
1989-93 Brigham Young University-Fine Arts Dept.- Provo, Utah
Fine Arts-emphasis printmaking and painting.

SOLO EXHIBITION
2003 'It's About Time' Multidiscipline visual sound project. (paintings, live sound improvisation).orchestra). Ausland, Lychener Str. 60 Berlin. Tivoli Galerie-Solo Show. Kopenhagener Str. 14, Berlin, DE Paintings
2002 17 Schliemann Str. Private art space Berlin, Germany. Paintings
1999 Cornelia Street Arts and Entertainment Center--Manhattan, NYC (Mixed media paintings)
1997 Wild Rose Gallery Café-Seattle, WA (drawings) Four Angels Café-Seattle, WA (paintings) City wide studio tours-Seattle, WA (paintings, drawings, mixed media)

1996 Wonderful World of Art Gallery-Seattle, WA (paintings)
1995 Blue Planet Gallery-Seattle, WA (drawings)
1994 'Collective Bleed' -Seattle, WA (installed paintings, drawings, sculpture, and found objects)
1993 Spot Bagel-Seattle, WA (paintings, drawings)

GROUP EXHIBITIONS/COLLABORATION
2003 'Wandlungen' Light and live drawing installation. "The Screen Festival." Ausland. Berlin. 'Our Song is Long.' Installed paintings and 12 hour composed improvis. Gallery Kurt Im Hirsch.
1992 Zervas Gallery-Seattle, WA (paintings) "Whose Choice" Women's Chicago Art Collective- show nationwide.
1990 StoneSoup Collaborative-Salt Lake City, UT (etching, lithograph)

CURATION
2005 'Visible Sound' Exhibit and performance series. (in Progress). Visual Arts Curator. Ausland. Centrum für Kunst, Musik und Theorie. Berlin Project manager-"Radiorif".
2004 Radioriff Berlin Project manager-"Radiorif".Berlin, De.
1997/2000 Cornelia Street Café Arts and Entertainment Center, New York City.

TEACHING
2003 Erasmus International School-Potsdam, Germany.
1996 YMCA Youth community outreach program. NYC, NY.
1992 Summer Youth Program-YMCA. Seattle, WA.
Ongoing: Private Art instruction for adults and youth.

PROFESSIONAL MEMBERSHIPS
The Field, NYC, USA
Artist's Trust, NYC, USA
Women's Caucus for Art, USA
Monroe Center for the Arts, USA
Ausland, Centrum für Kunst, Musik und Theorie, Berlin, Germany

UPCOMING SHOWS AND COLLABORATIONS
October 2004 'Visible Sound' Installed works by international musician/visual artist teams. Concept: sound artists utilizing visual themes or mechanisms, and visual artists applying or using sound as part of the work. Curator and participant: " Visual Painting. Sound Processes."
June 2004 'Binding Point' The potential of mark making as improvisation. Installation/Collaboration with musicians as mark makers, with the intent on creating through mark making sounds as improvisation fields. The secondary element seen through the visual record made during /from sound production. The process of sound in mark making explored.

WORKING PROJECTS
Conversations. Portraiture project. Painted works on canvas and sound installation. Individual interview sessions record the visual movements of the face and facial expressions. These are compressed into multi-layered painted works on canvas. Accompanying sound installation made from sections of recorded interviews.
Rhizome Loop Project. In collaboration with composer Chris Dahlgren. Rhizome texts drawn from random source material, formed into rhizome poems, formed into associated imagery paintings, formed into musical compositions, formed into installed painted wall scores. All elements of looping process are displayed in gallery space as an installation. Wall scores are live performed as well as rhizome texts read aloud.
Walking Project. Time based paintings related to the process of walking. Two month record photographically of daily walks with counted steps. The process is reinterpreted and compressed visually through painted works on canvas.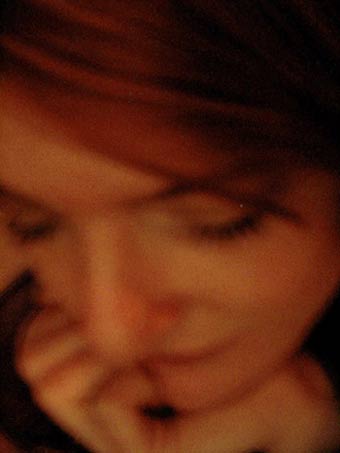 PRIVATE COLLECTIONS
EUROPE
2002/3

Michael and Sabine Vogel-painting
Silke Eberhard-painting
Derek Shirley-painting
Stuart Kruase-painting
Andreas Willers-paintings
Dave Bennet-painting
Franz Hautzinger-painting
Casper Debois-Painting
Peter Herbert-painting/structure
Laurent Muhleisen-drawing

USA

Susan and Steven Price- painting, painting/structure
Bob and Avva Seigler-paintings/structures
Beverly Renskers-painting/structure
David and Angela Droubay-painting
Aida and Rodney Wells-drawing

1998-1999

Molly Linton-watercolor/mixed media
Susan and Steven Price-painting
Bryon Carr-painting
Peter Herbert-painting/structure

1996

David Evans-painting
Sara Ingram-mixed media drawing
Dawnie Moss-mixed media drawing
Steven and Susan Price-mixed media drawing
Jim Albaugh-mixed media drawing
Kathleen Powel-painting
Melanie Stander-painting, mixed media drawing
Michael Bradley-mixed media drawing
Michael and Marlene Archibald-painting
Cameron Ristow-paintings

1993 Dawnie Moss-etching

1992 Sandra Bardsley-etching

1991 Barbara Madsen-etching

1989 Heather Hadjek-painting